Story Time
Our new class reader is The boy at the back of the classroom. Click on the link below to listen to the book read by some of your teachers.
We will upload your daily activities below. Remember your grown ups will decide how much or how little of the work you should complete.
SEESAW
Don't forget you can now use the Seesaw app to share with us the lovely activities you have been doing at home to stay busy and also to share any work you are particularly proud of. We have added some fun activities on to seesaw that you may want to try out. Remember, as always, your grown-ups will decide how much or how little of the work/activities you should complete.
Letter from the Queen.
A few weeks ago, one of our writing tasks was to write a letter to the Queen, I suggested you may want to post your letter to the Queen. George in class 9 did just that, and amazingly he received a reply from Windsor Castle. We were very excited when George showed the children in our bubble his letter, and thought we would share it with all you at home too.
Collective Worship
Please join us in daily Collective Worship by following this link:
https://drive.google.com/drive/folders/1lSIu8YN0brBMa1RllN0wFJMDimkOqFQy?usp=sharing
Click this link for Tuesday's B-Tales Collective Worship 
Click here for Vicar Andrew's collective worship
Friday 17th July 2020 Adult Guidance
Adverbials of Manner Handwriting
Adverbials of Manner Word Search
9 times tables and division facts
9 times tables and division facts answers.
Computing
Lesson Plan Too Much Information
Too Much Information Presentation
Thursday 16th July 2020 Adult Guidance
Year 4 Arithmetic Paper Answers
Science
Wednesday 15th July 2020 Adult Guidance
Introduction to World Explorers
Tuesday 14th July 2020 Adult Guidance
Up leveling sentences resources
Monday 13th July 2020 Adult Guidance
Geography
Equator and Hemispheres Power Point
Character Description Word Mat
Science
Wednesday 8th July 2020 Adult Guidance
Wellbeing
Tuesday 7th July Adult Guidance
Monday 6th July 2020 Parental Guidance 
BBC Bitesize daily lessons! 
BBC Bitesize have launched daily lessons! Click on the picture below to explore some of the activities they are offering.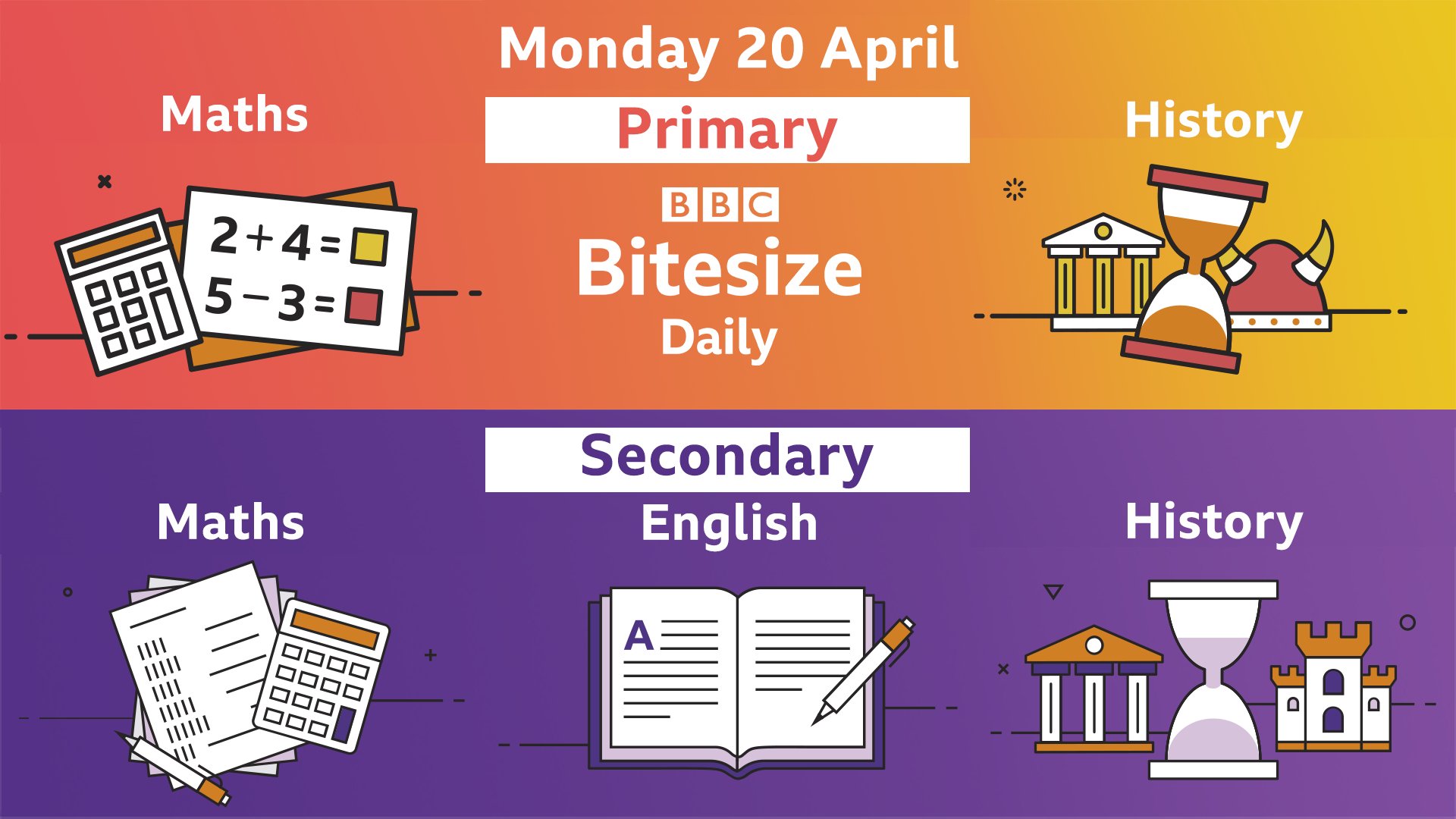 Welcome to Year 4
We have had a busy and successful start to our new Spring term. We are looking forward to lots of exciting activities over the coming weeks.
In RE, we will be looking at The Easter Story.
We are already enjoying taking part in the Votes for Schools project within our PSHE lessons! This has proved an exciting way for the children to find out about one of our key British Value: democratic elections! Each week there is a topic to focus on that is current in the news. The children have chance to discuss it and cast their votes.
In our English lessons we will be working hard to improve our reading, writing and spelling skills. We will be focusing on Non- Fiction and fiction writing. We will start the term by looking at instructional texts and balanced arguments.
In Mathematics, we will begin by looking at place value. By the end of Year 4 all pupils should know their times-tables to 12 x 12, so we will be working on this throughout the year!
Our topic in Science is all about living things and their habitats. We are really looking forward to our STEM week.
In Geography we are learning all about North and South America.
In Art we will be linking our work to Geography and Science.
We will continue to use Purple Mash to support our Computing work: both in terms of skills development as well as topic application.
In Class 9 we have outdoor PE with Mr Hawthorne on Tuesday and and Swimming on a Monday , so please make sure your full kit is in school for the week and swim kits every Monday. Remember to bring in winter wear for PE if required. (School tracksuit bottoms and tops).
We will continue to have French and Music lessons on Tuesday morning.
Mrs Mavers and Mrs Davies are here to help us, especially during our Maths and English lessons. We are very lucky to have them.
We have another busy term ahead!
Homework:
Click on these links!
Homework will be given out each Friday, the homework will alternate between English one week and Mathematics  the following week. All maths homework will be set on My Maths.
Spellings will be given out on Friday for a test the following Friday.
TIMES TABLES will also be given out Fridays and tested on the following Friday.
Our teachers are Mrs Malone and Mr Maguire and we are lucky enough to have Mrs Mavers and Mrs Davies to help us too! We are looking forward to an exciting and enjoyable spring term in Year 4!
Curriculum
Our long term plan for this year is as follows:
 Year 4 yearly overview 2019-2020